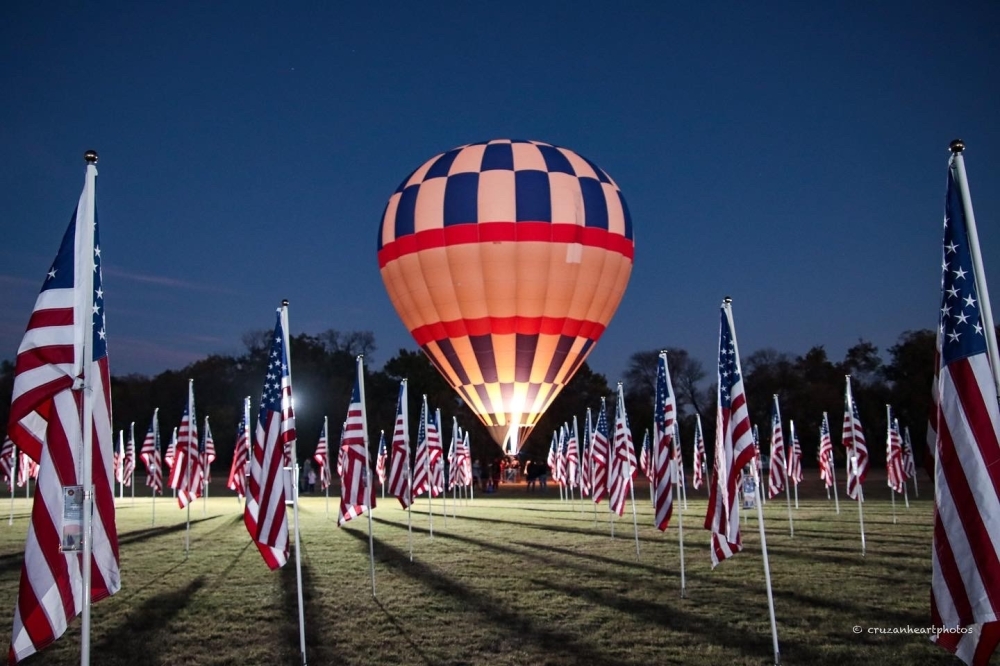 Week-long celebration at Oak Point Park in Plano to honor veterans and first responders
A host of activities are planned as part of a week-long celebration Nov. 5-12 honoring veterans and first responders.
The sixth annual Plano Flags of Honor is hosted by the Rotary Club of Plano East in conjunction with the City of Plano.
One of the highlights of the event is a field of 1,111 life-size American flags on display at Oak Point Park in Plano. The number of flags honors the armistice treaty signaling the end of World War I which was signed on the 11th hour of the 11th day of the 11th month in 1918, according to a press release.
"Plano's flags of honor manifest as something we can see and touch as we remember those who have served our nation and our communities," Marine Corps Capt. and Rotarian Ean Sullivan said in the communicated.
The flags will be installed on November 4 and will remain on display until November 12.
"Plano's Flags of Honor unite the community with those who serve and are dedicated to serving others," event organizer Lisa Bloomer said in the statement. "It gives us 'time out' to take a break from our busy lives and reflect on our past and present heroes who protect us and strengthen our country's ideals."
A series of other events will take place at the Red Tail Pavilion at Oak Point Park, 2801 E. Spring Creek Parkway in Plano. All events are free and open to the public.
The program includes captive balloon flights from 6 p.m. to 8 p.m. on November 4 and 5.
From 10 a.m. to 7 p.m. on November 5, 6 and 7, student works will be on display. A station will also be set up during this period for people to leave a note for a hero.
Most of the events will take place on November 5th.
Living historians and re-enactors dressed in period clothing with military gear will share their stories from 10 a.m. to 7 p.m. A musical performance by students from Wells and Schell Elementary Schools will take place at 10 a.m.
A Plano Safety Fair and Touch-A-Truck will be held from 11 a.m. to 4 p.m. Vehicles will include fire trucks, ambulances, Careflite and bulldozers. The Fire Truck Pulloza at noon has teams of 12 competing to pull a fire truck.
Patriot Paws will be on site with some of their dogs in training from noon to 5 p.m. The non-profit organization trains and provides service dogs to veterans with disabilities.
The Ladies Liberty Show troupe will perform from 3:30 p.m. to 5 p.m. At 6:15 p.m., police will fire a cannon salute, clappers will be played and the colors will be retired.
Patriot Paws and their dogs in training will also be at the park from 1-5 p.m. on Nov. 6.
For more information, visit https://planoflagsofhonor.com.