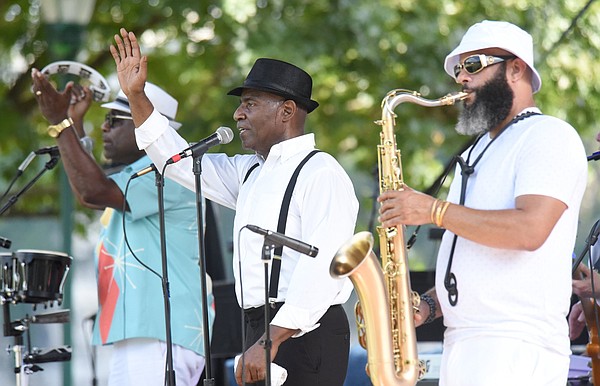 Music Census Partners Seeking to Plan for the Future
A week into the Chattanooga Music Census, organizers and data collection project partners are encouraged by the number of responses they have received, but are ready for more.
Donna Elle Harrison, director of cultural tourism and inclusive marketing at the Chattanooga Tourism Co., said she was pleased with the initial number of respondents, but added, "We want everyone involved in the music industry in our area do the census. Everybody."
The Chattanooga Music Census is led by Chattanooga Tourism Co. in partnership with the City of Chattanooga, ArtsBuild and Sound Music Cities, with funding provided by the Lyndhurst Foundation. Harrison, Kathleen Nolte, program director at the Lyndhurst Foundation, and James McKissic, president of ArtsBuild, the city's largest arts developer, spoke with the Chattanooga Times Free Press via Zoom this week to discuss the project.
The purpose of the census, they said, is to take stock of where the local music industry is today and what it can and should do over the next five to ten years.
Once the results are available, Harrison said they will be shared with more than two dozen organizations or partners involved in the project.
"We're going to need everyone," Harrison said, "but today we don't know what our problems or our solutions will be, and that makes people nervous because it looks messy. To me, that's is exciting."
For McKissic, it's about getting hard data. He said having actual numbers makes it easier to go to organizations like the Tennessee Arts Commission for grants, and it helps organizations like ArtsBuild know where they need to invest their resources.
"Details are so important," he said. "One of the things that would come to the fore was that artists wanted more support for individuals and for grassroots artists and organizations."
The census, which is anonymous, asks respondents to list any challenges or issues they have faced, such as mental health, ageism, sexism or racism. It asks people to detail what their job entails and how it fits into the wider industry.
The challenge, according to Harrison and Nolte, is to communicate that the survey is ongoing and that all responses from a variety of people in all demographic groups are wanted and needed.
Terry Clouse, 57, and Valitus Edwards, 72, have been playing music locally for several decades. Neither had heard of the census when contacted by telephone by the Times Free Press. Edwards completed the census soon after and said he appreciated the opportunity to examine himself.
He added that as the frontman of local party band Love, Peace & Happiness for the past 28 years, he might be in a different place than some younger musicians.
"I consider myself lucky maybe that I didn't have some of the issues that others might have," he said. "I never tried to make music my livelihood. For me, with marriage and kids when I was younger, I knew I had to earn a living and go to school and that the music wouldn't provide that."
He added that when people ask to book his band, they don't consider the amount of equipment they need, the travel time or the rehearsal time needed to learn new tunes when negotiating fees. of the group.
He thought the census and the results could help others better deal with some of these issues.
Micah Chapman, co-founder of the Hip-Hop Summit taking place this week in Chattanooga, is one of the partners in the census project and said organizers are encouraging summit attendees to fill out the census. He believes data is necessary and important to him as an event planner and to the community as a whole.
He said he was trying to make the summit as big as Riverbend or other successful local events and being able to learn from others would be a huge boost.
"We have so much music in our community," he said. "For me, (taking the survey) made me think of myself as an event coordinator and I realized there were so many other people doing the same thing. How do they treat venues or artists? I hear promoters or artists say, "How do you get in there? I can pay for the room, but how do I get in touch with the person?" This can help determine where everyone is, and by sharing that level of experience and hosting that information, we can hopefully put highlight and present this diversity so that everyone has their turn."
Tom Zutaut, best known as the guy who signed Mötley Crüe to Arista Records in 1981, moved to Chattanooga about three years ago and believes Chattanooga is "on the verge of a rebirth."
"I see it being the next city to emerge as a musical force," he said. "The city needs to find a way to support and promote it and it looks like it might.
"I love it here. I will never leave."
The census is available online and will be open until early November at visitchattanooga.com/music-census. It can be completed by anyone 18 years of age or older who works in the music industry in any capacity and lives in Hamilton, Marion, or Sequatchie counties in Tennessee and Catoosa, Dade, or Walker counties in Georgia.
The organizers will present the results to the public for comment and then form a strategic plan. Partners will start breaking it down to see what people think the music community wants and needs and then partners will see how and where they fit in.
Harrison is a former local radio personality and said she especially hopes people who have felt left out will participate.
"For the cynics, I was that person before, and I get it," Harrison said. "I felt like I was an influencer for 20 years, but I wasn't part of the last survey in 2013. I would say to skeptical people, be skeptical if you want, but you might miss it. 'opportunity to express your opinion on something that needs to be expressed.
Contact Barry Courter at bcourter@timesfreepress.com or 423-757-6354. Follow him on Twitter @BarryJC.