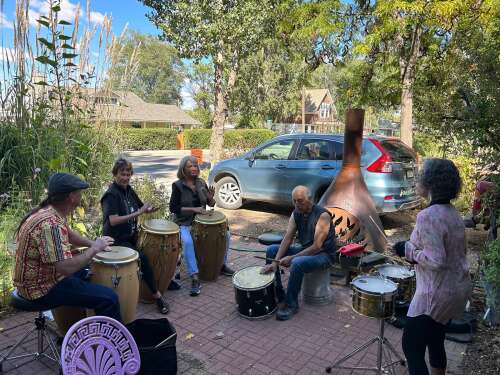 Aztec craftsmen open their workshops – The Journal
The Badland Boys and the Cowbelles play at Pip Howard's on Church Street in Aztec: Greg Mason, Laura Ryan, Cheri Johnson, Fred Roesemann, Lydia Velose. (Courtesy of Suzanne Howard)
A fall art walk brings downtown Aztec to life
Feat of Clay in Aztec served as the hub on October 8 and 9 for the annual Aztec Studio Walk, an open house hosted by local artists and artisans.
Jeweler and event planner Pip Howard said on Monday turnout was lower than some years – "less than I would have liked… but we had great music – fiddles on Saturday and percussion on sunday".
Eighty to 100 people visited his home to enjoy the unique art, music, and fall weather.
Violin duo Erica Photiades and Catherine Cunningham, members of the San Juan Symphony Orchestra of Albuquerque, performed in Howard's front yard on historic Church Street at 2 p.m. Sam Bell's "Paint and Sip" followed at 3 p.m.
In this place, Marty Goetzinger showed his paintings, and Travis Rowe, his custom cutting boards and woodwork. Suzanne Howard's pottery was also on display.
With all locations within walking distance of Aztec's Main Street, guests strolled casually to destinations on historic Church Street, Pioneer Avenue, and Gordon and Maddox streets.
Bonnie Adams opened her home studio, showing her paintings and sculptures, as well as the paintings and pottery of Rick Myers. Artists Steve Unger and Paloma Barons exhibited their paintings and drawings. The barons also gave a paper-making demonstration.
Tim Gordon, event coordinator, presented his paintings, sculptures and ceramics at his home on Pioneer Avenue. There were also jewelry by Lou Mancel and pottery by John Bintz.
On Maddox Avenue, Don Hammontree offered his eclectic/3D sculptures, as well as photography by Stacy Harris.
Sunday noon at Howard's, the African percussion of local musicians, The Badland Boys and The Cowbelles, set the neighborhood on fire.
At Feat of Clay Gallery, Amanda Harig donated her graphic art and paintings. Rick Kenciano presented his watercolours, and Richard Kynast his photography.
Howard's imperative message and desire for the weekend was: "Buy local".
Adams Studio, 724 Pioneer Ave.
Bonnie Adams, painting and sculpture; Rick Myers, painting and pottery; Steve Unger, painting; Paloma Baron, drawing. Papermaking demonstration by Bonnie Adams.
Studio Gordon, 810 Pioneer Ave.
Tim Gordon, painting, sculpture, ceramics; Lou Mancel, creation of bespoke jewelry; John Bintz, pottery.
Hammontree Studio, 815 Maddox Ave.
Don Hammontree, eclectic/3D sculpture; Stacy Harris, photography.
Howard Studio, 314 N. Church Ave.
Pip Howard, jewelry; Marty Goetzinger, painting; Travis Rowe, custom cutting boards and woodwork; Suzanne Howard, pottery.
Feat of Clay Gallery, 107 S. Main St.
The studio will be open during studio tour hours with the following artists: Amanda Harig, graphic design, painting; Rick Kenciano, watercolour; Richard Kynast, photography.
FEATURES
Sam Bell: "Paint & Sip" at 3 p.m. on Saturday, with drink.
Violin duets: Erica Photiades and Catherine Cunningham of the San Juan Symphony Orchestra at 2 p.m. Saturday.