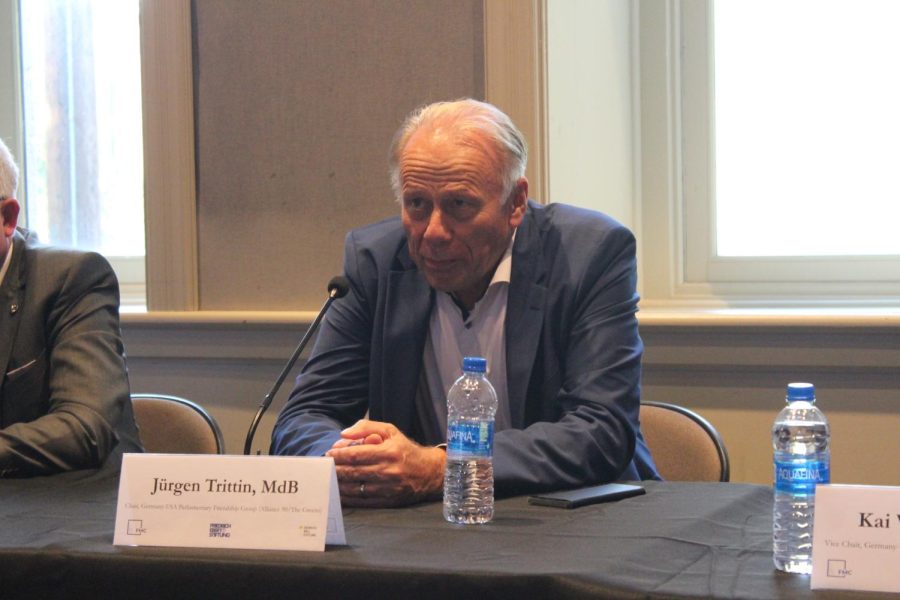 German MPs hold town hall in Dickinson – The Dickinsonian
Six members of the German parliament held a town hall meeting at the Stern Center at an event sponsored by the German Department, where they answered questions from a professor and Dickinson students.
Each member represented one of the six parties in the Bundestag, the German parliament, which is most comparable to the US House of Representatives. The delegation included Jürgen Trittin (The Greens) who is the chairman of the delegation, Sevim Dağdelen (The Left), Metin Hakverdi (Social Democratic Party), Andrew Ullmann (Liberal Democratic Party), Harald Weyel (Alternative for Germany ) and Kai Whittaker (Christian Democratic Union). The discussion was moderated by Kamaal Haque, Associate Professor of German.
The impact of the Russian invasion of Ukraine was a key point for much of the discussion, due to the many ways it affects not just Europe, but the rest of the world. In his answer to the first question on how to deal with a harsh winter in Germany, Trittin spoke of the need to "overcome this tendency, this dependence" on fossil fuels. Indeed, Germany receives significant quantities of gas from Russia, which means that in the face of reduced access to this supply, it has turned to other countries to reinforce environmentally harmful practices such as Hydraulic fracking.
Whittaker questioned reliance on other nations, especially for security. He said, "We don't want to depend on the outcome of the election in Pennsylvania, which sits in the White House, determining what kind of security policy we have in Europe."
Meanwhile, there were feelings of pride about the role of the European Union. Whittaker praised the European Union for its response to the war in Ukraine, especially given the number of different parties and beliefs in its member states. Hakverdi also hailed some of the EU's other recent achievements, such as welcoming Denmark into the group's common defense deal.
There was some conflict within the delegation, particularly by Weyel, part of Germany's most right-wing party. Weyel said that issues such as the Russian invasion of Ukraine are "misused…when you talk about the climate crisis", Ullmann replied that most of the delegation members are realists who are "motivated by the science and are fully aware of what is happening" and that "sometimes there are parties in the German parliament that think differently, and… a majority of us in front of you don't think that way.
Dağdelen also broke with the consensus, saying the Russian invasion of Ukraine is a crime. She said it was an "illusion" that sanctions against Russia could stop the war. She also said her "objective is to stop the war and stop the killings", which she says sanctions do not do.