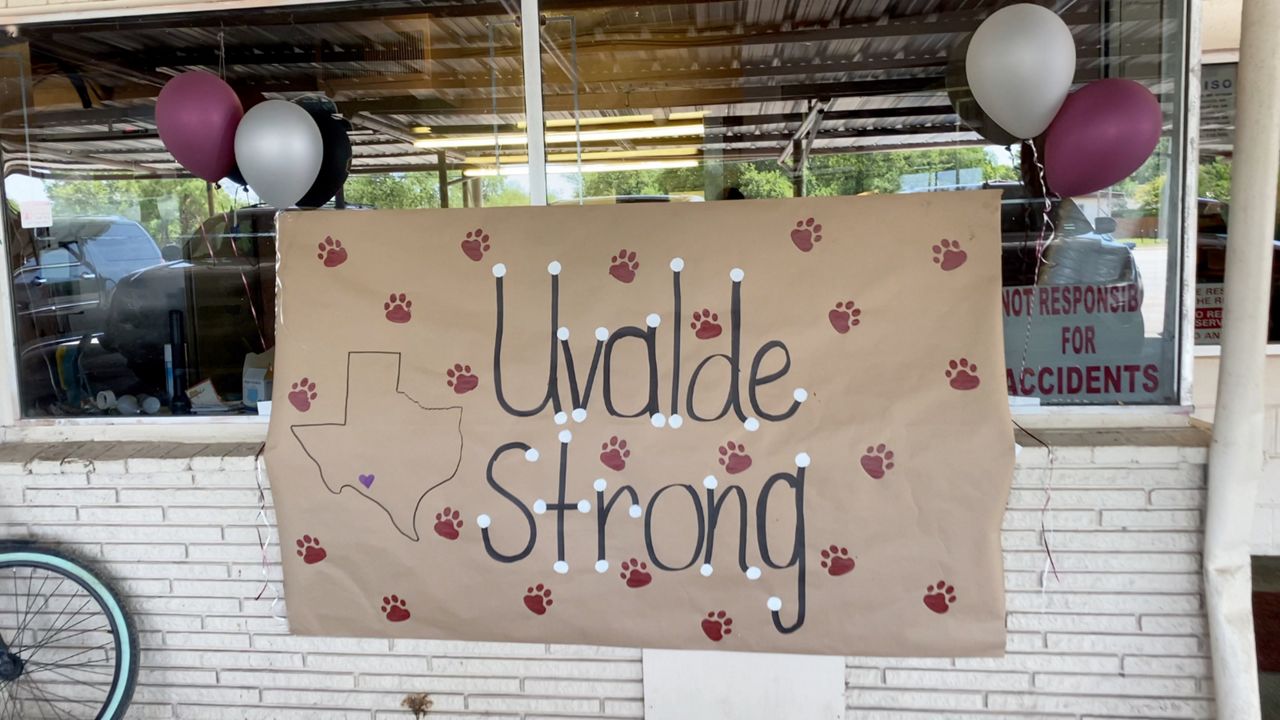 Local businesses strengthen community bond after tragedy
UVALDE, Texas – Local businesses in the Uvalde community are working to keep spirits up as the nation continues to mourn the elementary school shooting.
As a waitress at the Mexican restaurant Ofelia in Uvalde, Cathy Gonzalez is always ready to give back.
On Thursday morning, Gonzalez made a special delivery in support of his community in Uvalde. She loaded up over a dozen meals of enchiladas, along with rice and beans.
"A lady from Del Rio called and placed the order. She wanted to have 15 plates sent to Hillcrest Funeral Home for lunch," Gonzalez said.
Uvalde Funeral Home is committed to helping the families of those killed in the Uvalde Robb Elementary School shooting that claimed the lives of 19 children and two adults by providing free funerals.
"We are a community, that's why we are here. We are here to support our family, which is our community," Gonzalez said.
Back at the restaurant, Gonzalez and his fellow servers decorated with handmade posters in remembrance of those who lost their lives.
"These are children's hands and each hand is named after the child we lost," Gonzalez explained.
For Gonzalez, it's not just names, as many of the victims and their families were regulars at the restaurant.
"This Jackie Cazares girl, she was actually here. I think Saturday or Sunday they were celebrating someone's birthday, and they had a cake and they ate. They were laughing. She had a big old smile on her face," Gonzalez recounted.
Just down the street from the restaurant is a pop-up car wash. Its mission is also to support the community of Uvalde.
"Our goal is to get a thousand," exclaimed event organizer Luis Omar Rodriguez.
Rodriguez said all money raised will be donated to the families of the victims.
"With what's going on, I just think we had to do something, you know." Rodríguez said.
Rodriguez and his volunteers had already washed more than 500 cars Thursday night for $10 apiece, with plans to relocate over the weekend.
"There were only good vibes today," Rodriguez said. "The last few days it's been negative, but today it's a good positive result of our being here. Whatever happened, it's just sad. We can't change it. We just want to promote a little hope and a little Uvalde Strong.
When Gonzalez heard about Rodriguez's pop-up fundraiser, she wasn't surprised by how her community is coming together to keep Uvalde strong during this healing time.
"These children are not my children, but they were my children at the same time because it could have been my child. We are a community. That's what we're here for. We are big-hearted Texas people," Gonzalez said.