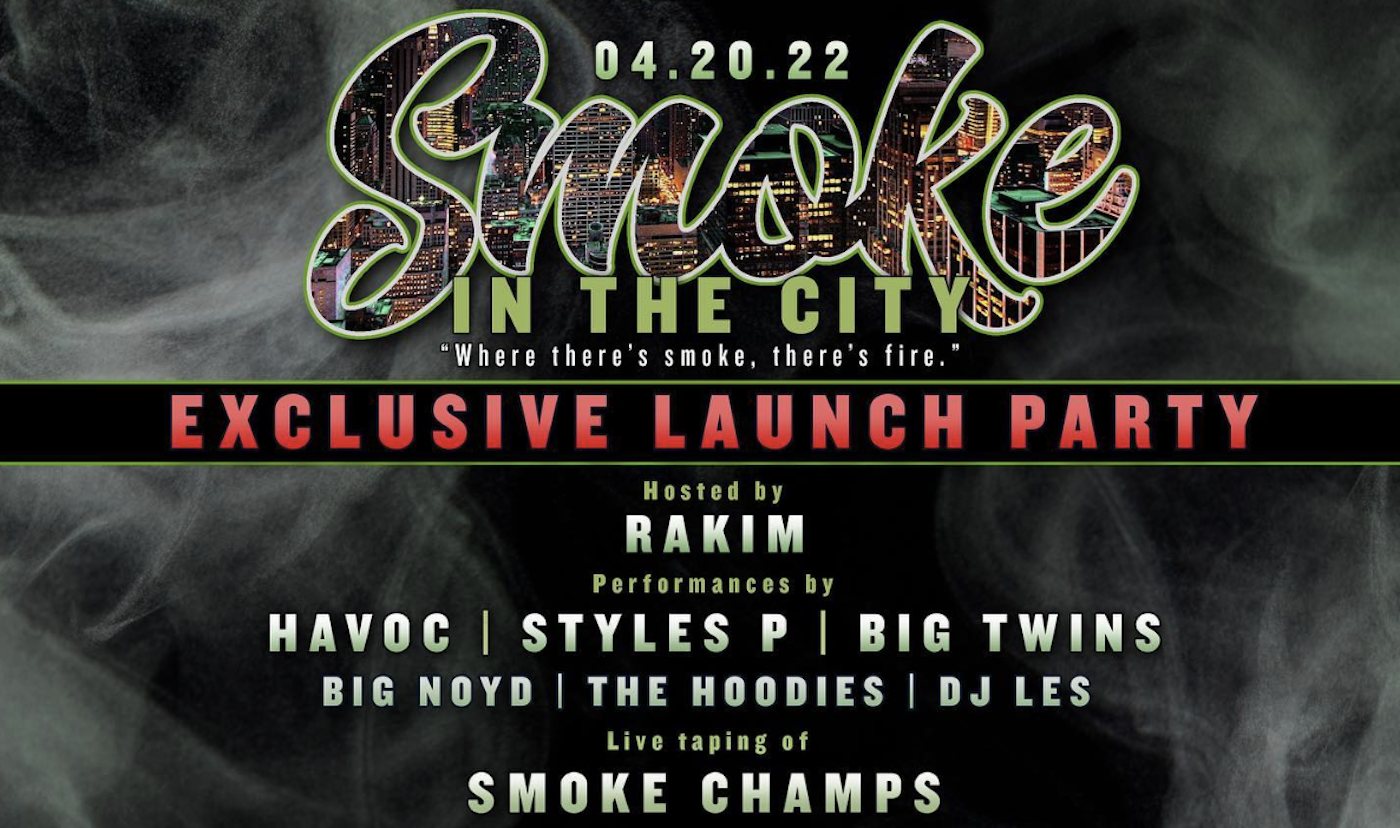 Black Market Group enlists hip-hop artist Rakim to host an epic "Smoke in the City" launch party in New York City on 04/20
"New York, are you there? These iconic lyrics from Rakim's 1997 track of the same name come full circle as the Empire State kicked off recreational cannabis use this year. Rakim Allah, the legendary Long Island-born MC, will host 4/20 at SOB's in Lower Manhattan as they celebrate the launch of the Black Market Group brand.
Black Market Group (BMG – @blackmarketcertified), along with INFMS Farms (@infmsfarms) travel to New York to celebrate the official launch of the respective brands, highlighting the intrinsic connection between hip-hop and cannabis culture with a Big Apple – bash based on every canner's favorite party, 4/20.
The women-founded Black Market Group will officially launch at the 4/20 event, furthering the footprint of cannabis veterans in the industry. BMG has cultivated strong relationships with "legacy" cannabis farms and cannabis aficionados from across the hip-hop world to cultivate mutually beneficial partnerships within a vertically integrated ecosystem.
"We are thrilled to blend the best elements of Legacy Cali cannabis culture with the legends of the New York hip hop scene. Our 4/20 event will mark the beginning of Black Market Certified and our mission to preserve the culture. says founder Annick Goldsmith.
Black Market Group is a cannabis brand house created to preserve the legacy of artists, farmers and various cannabis brands while creating dynamic environments that create small operators. Home to a group of brands that each have their own identity, BMG amplifies brands that put culture at their center. Hosted by legendary American rapper and producer RAKIM, he has been a heavy cannabis user throughout his career and shares his message with the New York market. As music is a form of expression for RAKIM, cannabis is his way of further expanding his expressions, championing the benefits of cannabis throughout his career.
"Legacy means you did something big, what you did had substance and people gravitated to it, and it all comes from having a good product," says Rakim , adding, "Together with Black Market Group, we are sharing this legacy with the world.
The Black Market Group 4/20 event begins on Wednesday, April 20, 2022 at 6 p.m. at SOB's (Sounds of Brazil – https://soundsofbrazil.com) in Lower Manhattan's Hudson Square neighborhood, with general admission and VIP tickets on sale now on the SOB website. In an exclusive VIP session starting at 6 p.m., the one and only SmokeChamps (@therealsmokechamps) will host a live recording of the SmokeChamps podcast, an uncensored conversation about all things cannabis and culture.
Founded in 1982, Sounds of Brazil is an iconic Manhattan music venue that has recently hosted contemporary superstars such as Drake, Kendrick Lamar, Kanye, Justin Timberlake, and more. SOB's serves as the perfect setting to honor RAKIM's legacy and create a platform for the culture to experience firsthand. The bustling setting will allow all attendees to feel the high vibes, enjoy live music from artists from the "golden age of hip hop" and experience first-hand the purpose-driven cannabis brands, rooted in earned respect and heritage.
New York is the birthplace of hip hop and culture at its roots. Once the regulated cannabis market in New York takes hold, it has the potential to become a global industry leader. Great cannabis, like great music, can be found coast to coast and BMG brings these two worlds together like never before.
As the date for the Black Market Group 4/20 celebration approaches, we are thrilled to offer you the opportunity to connect with Annick Goldsmith from BMG, Rakim and Big Twins from INFMS Farms.
ABOUT THE BLACK MARKET GROUP
Black Market Group (@blackmarketcertified) is synonymous with culture. As a women-led, purpose-driven cannabis brand house created by industry veterans, BMG is on a mission to build and preserve the legacies of artists, farmers and diverse cannabis brands. while creating dynamic environments that create smaller operators in space. . Based in Northern California and with deep relationships and understanding of cannabis cultivation, BMG is able to manage and support these brands in various capacities including cultivation, cultivation, extraction, manufacturing , distribution and sales – creating an authentic business model, with their own voice and on their own terms.